Body
Brian Kemp: Like his Democratic Predecessors, Suppressing Ballot Integrity and the Legitimacy of Georgia's Elections
John Fortuin
 
November 8, 2018
Updated November 14, 2018
Author: John Fortuin is a Georgia citizen with 20-years experience as a computer programmer and analyst. Fortuin is co-founder of Defenders of Democracy, which for over fourteen years has advocated for fair and auditable elections. In 2018, the Green Party nominated John Fortuin for State Senate District 46, where he is running as a write-in candidate.
Executive Summary
Cronyism is defined as: 
"the practice of favoring one's close friends..." - Dictionary.com1

"partiality towards friends and associates" - Markkula Center For Applied Ethics2

"the substitution of political influence for free markets" - Economist David R. Henderson3
This report documents the links and cooperation between the power brokers of Georgia's Democratic and Republican parties in purchasing and retaining a computerized voting system wholly vulnerable to insider and outsider manipulation of vote totals. The cronyism reported here in this account probably isn't exceptional for Georgia, except for the two-party synergetic subversion of the core values of our democratic republic, the right to have our votes accurately recorded and counted.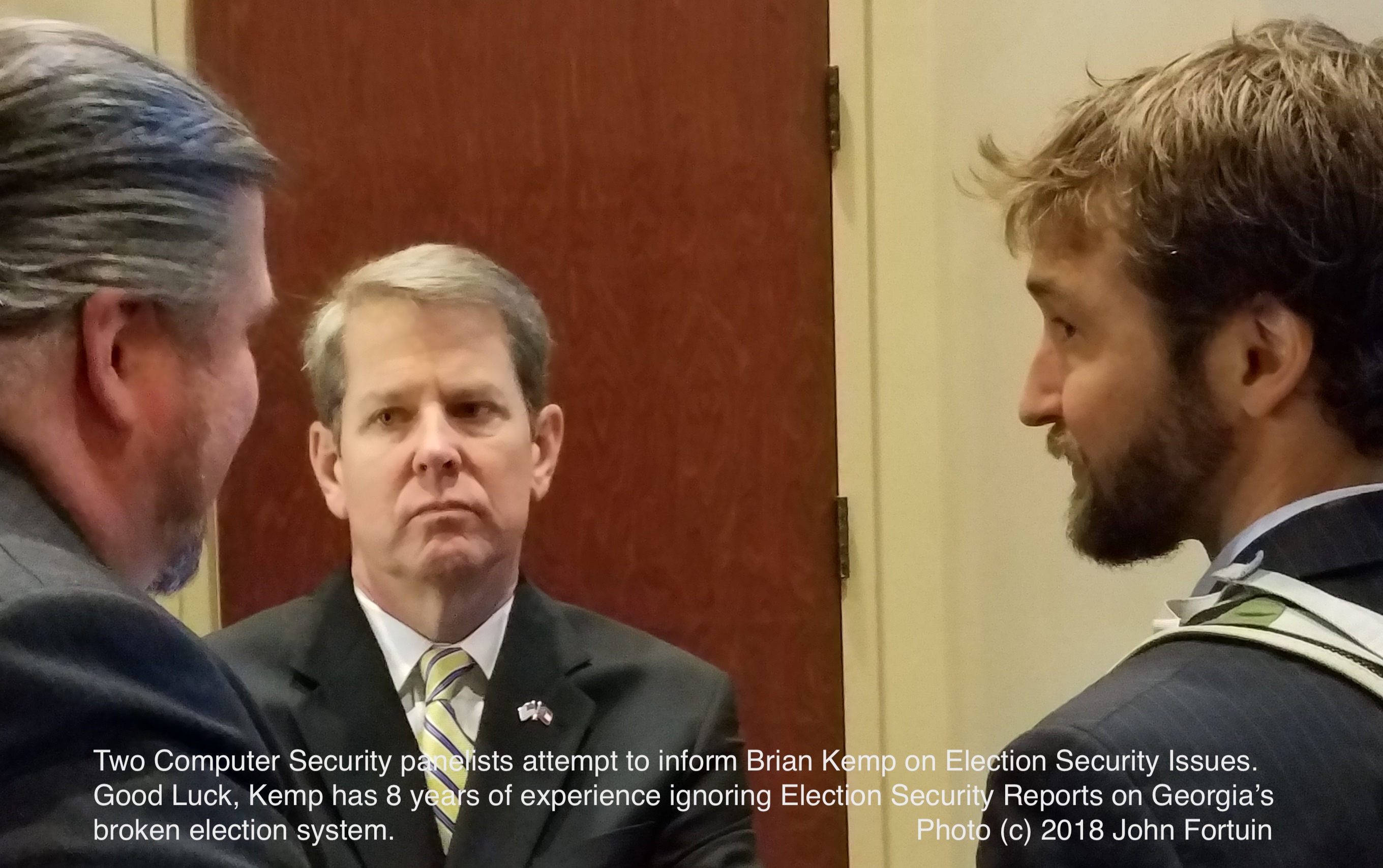 News outlets discussing Secretary of State Brian Kemp's gubernatorial candidacy haven't covered Kemp's relationships with lobbyists and Democratic power brokers. Exposing these relationships makes clear that Kemp's record running the Elections Division follows the path of his Democratic predecessors, who ignored scientific facts and voter objections to reward favored vendors. Former Democratic officials including ex-Gov. Roy Barnes, former Secretaries of State Lewis Massey and Cathy Cox are exposed as participants in a web of relationships with Kemp, where top officials side with voting machine companies and against their constituents to keep elections vulnerable. 
Kemp expended Georgia tax dollars hiring Gov. Barnes as his attorney to defend Georgia's vulnerable, and un-defendable voting system. Barnes' shameless hyperbola in federal court failed to distract Judge Totenberg, who states "the Defendants [Kemp et al] and State election officials had buried their heads in the sand...[on computerized voting vulnerabilities]". 
This report reviews auditable voting equipment standards, because Kemp and the legislature have failed to enact any meaningful standards. It examines the voting equipment Kemp is ready to buy, to reward lobbyists like Kemp's fraternity brother Lewis Massey. We expose the marketing schemes lobbyists like Massey are deploying to expend $120 million of Georgia tax dollars to buy new, hacker-friendly voting equipment.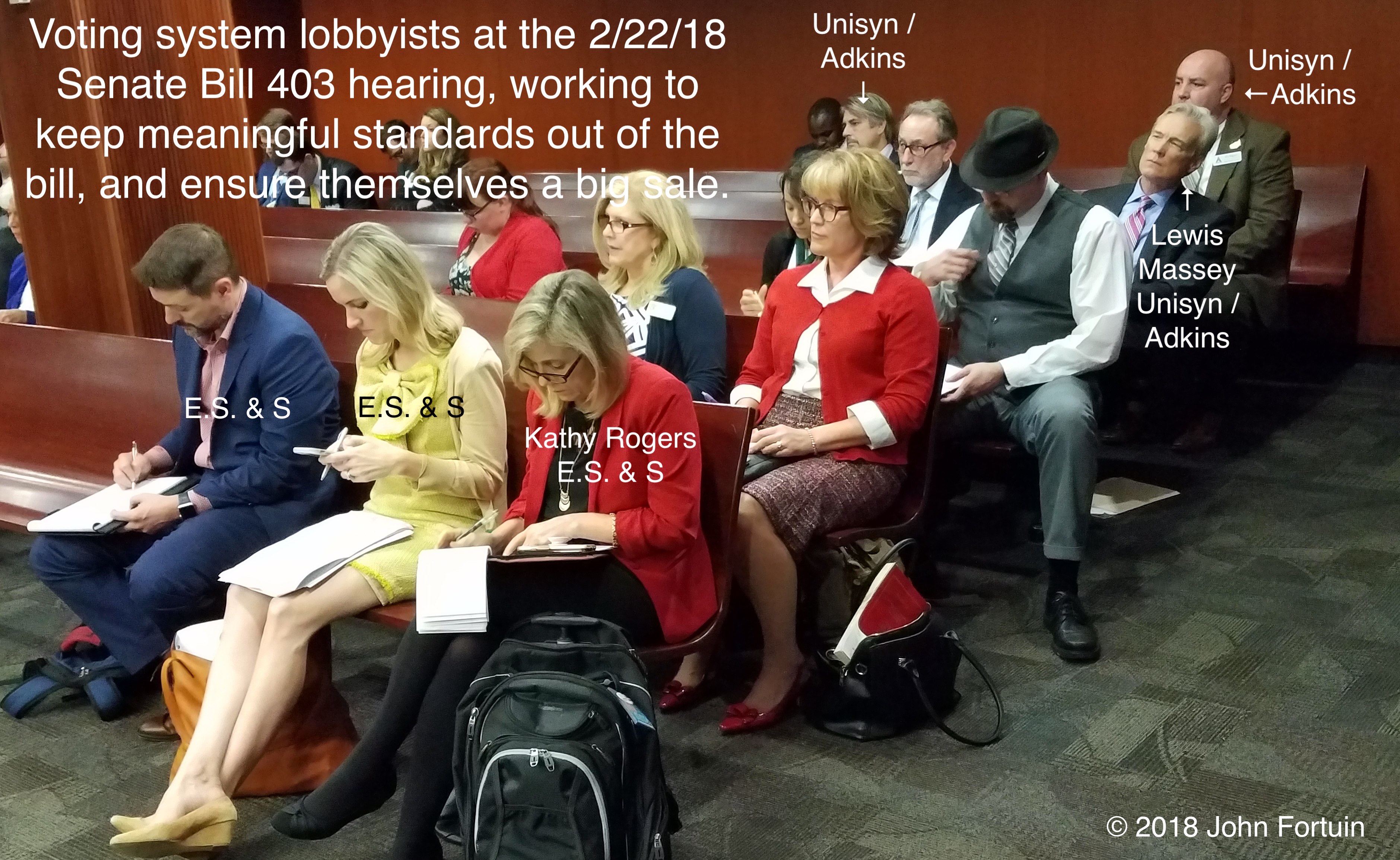 This report closes with a plea asking citizens to vote, and to demand meaningful standards for voting equipment, standards recognized by the nation's leading computer security and elections experts. Georgia should have voting system standards mandating equipment that use human-marked, human readable paper ballots that are scanned by in-precinct paper ballot scanners on election night, with election night audits. 
Free Download of Full PDF Report 
Epilogue
AJC Reporter Mark Niesse wrote a news article focused on Kemp on Jan. 31, 2019 entitled:
Advocates question election company's links to Georgia officials
which reads like a continuation of my above report, with new and relevant material, I highly recommend it as well.
= = = = = = = = = = = = = = = = = = = = = = = = = = = = = = = = = = = = = = = = = =
1Accessed 11/01/18. https://www.dictionary.com/browse/cronyism
2Judy Nadler & Miriam Schulman, accessed 11/01/18. Markkula Center For Applied Ethics. https://www.scu.edu/government-ethics/resources/what-is-government-ethics/favoritism-cronyism-and-nepotism/
3David R. Henderson, The Economics and History of Cronyism7/27/2012 https://www.mercatus.org/system/files/Henderson_cronyism_1.1%20final.pdf